You must allow cookies and JavaScript for a proper shopping experience.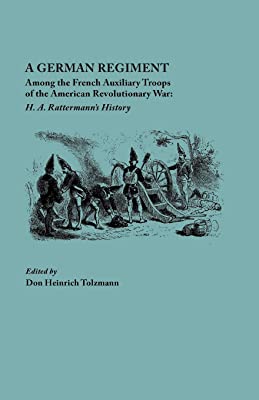 Price: $14.97 USD
Publisher: Clearfield Co : 1999
Seller ID: 54023
ISBN-13: 9780806349107
Binding: Paperback
Condition: Near Fine with no dust jacket
---
Green booklet looks almost new. Very clean contents. Book now in archival sleeve to protect condition.While it is widely known that German soldiers from Hesse (Hessians) fought on the British side of the American Revolution, it is less well known that among our French allied forces were a number of German units. For example, more than half of the 300 men recruited in France by Lafayette in 1779 hailed from Alsace-Lorraine and southwestern Germany. According to one authority, it is possible that the German enrollment in the French cause may have equaled the figure of 30,000 ascribed to Germans ...
View More...
Price: $11.97 USD
Publisher: Washington, D. C., Government Printing Office : 1907
Seller ID: 41530
Binding: Hardcover
Condition: Good with no dust jacket
---
Blue cloth cover. Describes the ceremonies which took place at the re-burial of Jones after his original coffin had been excavated from an abandoned cemetary in Paris. Intersting details of the discovery of the coffin and autopsy. Cover has chips and stains. Contents clean. Extensive chronology in back. We provide delivery tracking on US orders. ; Photographs & illustrations; 8vo 8" - 9" tall
View More...